Event Overview
iiE Awards 2020 – we're going virtual!
05/10/2020 – 08/10/2020 

(
Online events at
10am-11am
and
4pm-5pm)
This year's Investors in the Environment (iiE) Awards will be bigger and better than ever before, with businesses invited from across the whole of the UK to celebrate organisations' sustainability achievements.
This year marks the 10th anniversary of the Awards, and to celebrate the occasion we are launching a full programme of free online events for you and your team to join.
We are planning a week-long series of webinars to engage organisations with different environmental initiatives to inspire, influence and share best practice. The programme will culminate in the iiE Awards on International Clean Air Day (Thursday 8th October).
Join us at the iiE Awards to discover this year's winners and hear from our fantastic keynote speaker John Grant. John is the author of Greener Marketing (2020) the award-winning Green Marketing Manifesto (2007) and six other books.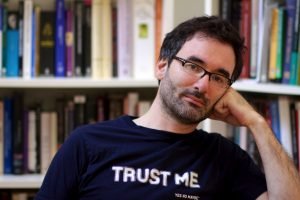 John is a creative marketing strategist whose sustainability-related clients have included the BBC, Cafe Direct, Cisco, the Co-operative Bank, Daylesford Organics, Ecotricity, The Guardian, HSBC, ING, innocent drinks, IKEA, Natura Cosmetics, the Royal Mail, Unilever, the UK Government as well as numerous independent and authentic entrepreneurs. John was previously a co-founder of the socially progressive London creative agency St Luke's (named 1990s Agency of the Decade by AdAge) and also in 2008 co-founded a digital startup called Ecoinomy (with Deborah Meaden) that created a platform and incentives for employees to green their workplaces.
iiE members and non-member businesses are invited to join together in a celebration of eco achievements and to look ahead at what further action can be taken. Join in the conversation online with #iiEAwards.
The iiE Awards Programme 2020
Book your place via the links in the Programme details above.
An Investors in the Environment series of FREE events.
Important Information
Book your place via the links in the Programme details above.